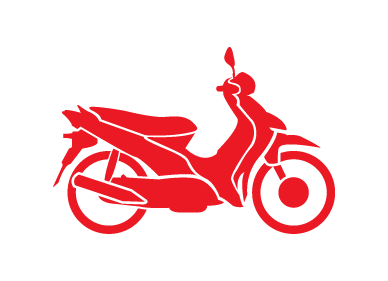 From Yamaha YZF-R125s and Honda XL125s through to Suzuki RV125s and an almost endless list of others, more people than ever are turning to 125cc bikes as an affordable way to get into biking, and even just as a cheap and reliable way to get around.
An increasing number of people are choosing 125 motorbikes to be their primary transport, often owing to licensing restrictions as well as greater fuel economy and cheap running costs. Ideal for 17 year olds, these learner legal motorbikes can be ridden at stage one of the 'staged access' system, meaning they can be road legal through passing only your CBT - providing the perfect middle ground between scooters and more powerful bikes.

Whether you ride a 125cc bike as an economical commuting vehicle, for weekend ride-outs or simply as a stopgap until you pass your tests, with Bikesure 125cc insurance you can enjoy all the benefits of these learner legal motorbikes, whilst keeping costs down.
Insurance For Learner Legal Motorbikes
At Bikesure we have 20 years experience finding the ideal policies to suit any need, and with our 125cc bike insurance you can now get the perfect policy for you. Bikesure use a specialist, highly competitive panel to provide 125cc insurance for our customers without breaking the bank. Why run an affordable bike but pay the extortionate insurance premiums other brokers might charge?
125s come in all shapes and sizes - the only real similarity between them being that they are all 125cc. From scooters to cruisers, replicas to enduros, whatever style of bike you like, you can find an affordable 125cc modeled to suit, and with our background as a specialist broker we are sure to find a quote to suit too.
Many insurers will cover 125s on their standard motorbike insurance, offering no benefits or discounts unique to the lower powered bikes, but as a specialist broker our policy is designed for 125cc bikes exactly in mind.
As with all of our policies, we aim to find our customers the exact cover they need all at an affordable price. By getting in touch today you can speak to a genuine insurance expert who can find out exactly what you want and tailor the level of cover to suit. Alongside our standard 125 policy details we also offer a huge range of added extras, meaning you can protect as much or as little as you want and keep your premiums affordable.
To speak to one of our friendly, knowledgeable and Norfolk-based staff today, get in touch for a 125 insurance quote by calling us on 0800 369 8580 or by completing a contact form online.
Key Features
Just a few of the benefits our policies offer are:
Full range of comprehensive 125cc insurance, TPFT insurance and TPO insurances available
Discounted premiums for riders with no claims bonus
Motorbikes with modifications and customisations covered
Agreed value option for custom and modified motorbikes
Easy payment options available including direct debit - even for 17 year olds (subject to the instalment plan being taken out by a parent/guardian)
Legal cover up to £100,000 included as standard
Riders with motoring and criminal convictions covered
Policy Upgrades / Add Ons