Electric Scooter Insurance Quotes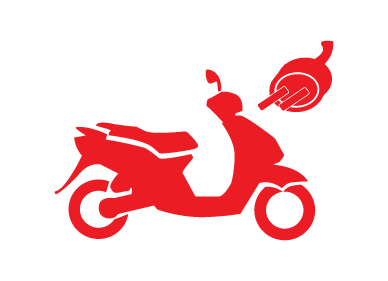 As we all become more aware of the way our transport choices can effect the environment and our bank balances, more people are choosing electric scooters as a cost-effective way to get around. With exceptionally low running costs it is only logical that the insurance costs for your electric bicycle are also kept to a minimum.
Whilst some insurance companies step away from dealing with unusual scooters and mopeds or charge higher premiums, Bikesure specialise in offering cover for unique motorcycles at reasonable prices and, with access to a wide variety of insurance companies, we can find you the best quote.

Insurance for all makes and models of electric scooters, motorcycles and bicycles
No matter what the make or model of electric scooter or electric motorcycle we can find insurance to cover you, including cover for imported and uncommon manufacturers. So whether you are riding a Zero, Zippe, Swish or Zepii we can find insurance to cover your needs, be that commuting to work daily or just for the occasional trip into town.
Many insurance companies struggle to deal with imported electric scooters, Bikesure is different and can still provide the same level of insurance for imported electric scooters.
If you have realised the money saving and environmental benefits of riding an electric scooter and now need to find electric bike insurance to match then phone Bikesure to speak to an expert within the team for a quote that is tailored to your needs. Alternatively please request a callback or use the online quoting system.
Electric Bike Insurance Policy Features
All makes of electric scooter, bicycle and motorcycle covered, including Chinese and Indian models that do not have an ABI code
Road-legal electric scooters covered
Cover for electric bicycles
Modified scooter insurance
Young riders
Riders with motoring convictions covered
Riders with criminal convictions covered
Easy payment options including direct debit - even for 16 year olds
Full range of comprehensive, TPF&T and TPO cheap imported scooter insurance policies.
UK and foreign licenses acceptable.
Optional cover for your helmet and protective clothing up to £1,000
Free legal cover
Save on insurance for your electric scooter
There are a wide range of discounts available to owners of electric scooters, many of which are only available on the phone.
Discounts include:
Owners club discount
Limited mileage discounts
Security precautions
Keeping your scooter in a garage
Experience of riding your scooter
Multi bike insurance discounts
Although you can buy your electric bike insurance policy online, you can get even better insurance deals if you speak to us on the phone. We can take your individual circumstances into account to bring your price down substantially, because our staff can look at things in a less rigid way than a computer and are specialists in imported bikes and electric scooter insurance. UK based call-centres with highly trained staff mean we can answer any questions you might have and advise you on the features available from your electric bicycle policy.
Our best rates are only available on the telephone, so make sure you call us on 0800 369 8580 before you buy a policy.
Policy Upgrades / Add Ons