Quad Bike Insurance & ATV Insurance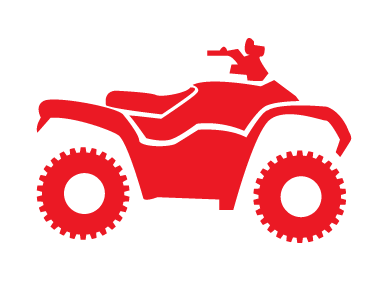 For cheap insurance, Quadsure, the specialist insurance section of Bikesure, can help you. We have access to a wide variety of specialist quad insurance schemes, and can offer cover tailored to your exact needs. As a leading quad bike specialist, we have unrivalled expertise in this area, as well as access to a wide range of specialist insurance schemes.
With great prices for quad owners we offer a complete low-cost, high quality insurance service covering leisure, sports, utility, ATV and buggy models. And as a specialist broker, we can offer cheap cover whether your quad is used for off roading fun, farm working or if you get your kicks at the weekend on a Yamaha Raptor 700R.
Use our online insurance quote system right now to compare cheap insurance quotes from our panel of underwriters and choose the one that suits you best.
Cheap Insurance Quotes
Whatever you want to get up to, there is probably a bike out there which is ideally suited for you, but finding a reasonable ATV insurance quote is not such a simple proposition.
Many motorcycle insurance companies who offer insurance don't actually appreciate the different needs of bike owners and the multiple ways in which quad bikes differ from motorcycles - the way they are used, the lower than assumed accident risk. Due to these prejudices, you may be offered an insurance quote that is much higher than you need to pay
Insurance with a difference
When you take out an insurance policy from Bikesure, you can be confident that the insurance policy matches your needs. That's because we have access to an array of specialist and cheap insurance schemes, all of which have been designed for you.
We can cover against fire and theft, and we can offer a whole array of road insurance products to all road-legal quads.
And if you have zero no claims bonus, don't despair. Whatever the reason for your lack of discount, you can get a quote from us, and we can also offer convicted rider insurance for riders with motoring convictions or criminal convictions.
What's more, when you use our online quote and buy system you can instantly compare insurance quotes selected from the several available and then choose which one is best for you. If you like the price you see you can buy online, or speak to one of our knowledgeable underwriters to take up the policy or discuss further options.
Bikesure's insurance products can be customised to your needs - you can choose additional features will benefit you most. All policies offer £100,000 of legal cover free of charge, but you can also choose personal injury cover, comprehensive breakdown cover with homestart and protective clothing and helmet insurance as low-cost options.
If you like the price you see you can buy online, or speak to one of our knowledgeable underwriters to take up the policy or discuss further options.
Read our FAQs page for commonly asked questions.
Insurance Policy Benefits and Saving
Performance, leisure, sports, utility, kids and ATV quads, buggies and bug riders are all covered
Insurance for any street legal bike
Commuting insurance cover available
Multi-bike insurance policies at reduced rates including bikes
Cover for riders of all ages
Riders with zero no claims accepted
Riders with motoring convictions covered
Riders with criminal convictions covered
Most modifications and customisations covered
Easy payment options including direct debit options
Full range of comprehensive, third party fire and theft (TPFT) and third party only (TPO) insurance.
UK and foreign licenses acceptable.
There are a wide range of discounts available, many of which are only available on the phone.
Discounts include:
Owners club discounts of up to 25%
Security discounts
Garaged discounts
Discount for private car no claims bonus (NCB)
Discount for Motorcycle NCB
Discount for NCB earned and used on another vehicle
Multi bike insurance discounts
Our best rates are only available on the telephone, so make sure you call us on 0333 250 6966 before you buy a policy.
Policy Upgrades / Add Ons