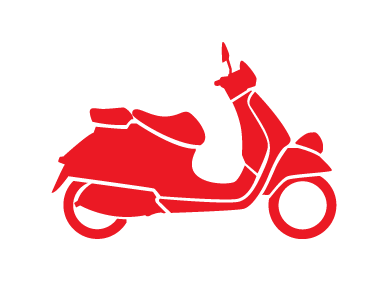 High quality scooter insurance at a low price is what Bikesure have specialised in for years. We have access to a wide variety of specialist scooter insurance schemes, and can offer cover tailored to your exact needs.
With cheap scooter insurance prices for learners, younger riders, experienced riders, commuters and scootering enthusiasts we offer a complete low-cost, high quality service to all owners of scooters. And as a specialist broker, we can offer cover if your scooter is a classic or modified.

Specialist Insurance for Scooters
Perhaps you're a teenager with a 50cc scooter, or maybe a classic scooter enthusiast with a Lambretta. You might enjoy rides with a friend on a two seater Suzuki Burgman, or you may just appreciate your scooter as a stylish and comfortable way to get from A to B. Whatever your lifestyle, there is probably a motor scooter out there for you, but finding a reasonable scooter quote may be somewhat trickier.
The problem is that a lot of insurance companies don't understand the particular needs of the scooter owner. They don't take account of the many ways in which scooters differ from bikes, and as a result, the unwary scooterist may be charged over the odds.
Bikesure is different
When you take out an insurance policy from Bikesure, you can be confident that the policy matches your needs as a scooter owner. That's because we have access to an array of specialist insurance schemes, many of which have been designed purely for scooters, including tailored schemes catering for standard scooters, classic scooters and customised scooters.
What's more, when you use our online scooter quote and buy system you can instantly compare scooter quotes selected from those available and then choose which one is best for you. If you like the price you see you can buy online, or speak to one of our knowledgeable underwriters to take up the policy or discuss further options.
Because our insurance is tailored to your needs, you can choose which features will benefit you most. Every policy comes with £100,000 of free legal cover, but we also offer optional add-ons including personal injury cover, comprehensive breakdown cover and protective clothing and helmet insurance.
Bikesure scooter insurance policy features:
Agreed value option for classic, custom and modified scooters
Riders with motoring convictions covered
Riders with criminal confictions covered
Easy payment options including direct debit - even for 16 year olds (subject to guarantor)
Full range of comprehensive scooter insurance, TPFT insurance and TPO cheap insurance.
UK and foreign licenses acceptable.
Optional breakdown cover
Optional personal injury cover
Optional cover for your helmet and protective clothing up to £1,000
Legal cover up to £100,000 included free of charge
Featured scooter advice on the Bikesure Blog
Policy Upgrades / Add Ons