Dual Sport Motorcycle Insurance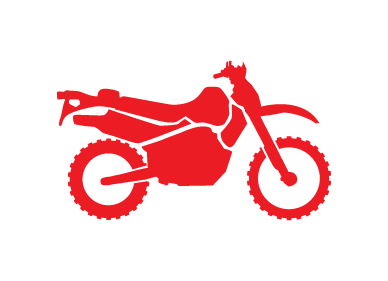 Dual sports motorbikes are increasing in popularity as they give you the freedom to ride legally on the road and take your motorbike off the road allowing you to get places those other motorbikes can't reach.
Bikesure offer dual sport motorcycle insurance
The problem with these motorbikes is that regular insurance policies will not insure you for off-road use, which will be infuriating if you should have an accident crossing un-surfaced tracks.
Bikesure can find you insurance for dual sport motorcycles, ensuring that you are fully covered for off-road and on road use. This gives the best of both worlds for motorbike riders by opening up the routes available on and off road.
Insurance for all dual sport motorbikes
Insurance is available for all types of dual sport motorbikes; Bikesure can find a policy that matches all your insurance requirements. Whether you are a convicted rider, have a modified bike or zero no claims discount.
Speak to a member of the Bikesure team to request a quotation based on your dual sports motorbike needs. You can also request a callback or receive a quote online.
Bikesure Dual Sport bike insurance policy features can include:
Third party cover to ride a friend's bike
Multibike insurance policies at reduced rates
Cover for riders 16+
Riders with zero no claims accepted
Riders with motoring convictions covered
Riders with criminal convictions covered
Modifications and customisations covered
Easy payment options including direct debit instalment plans
Cover available for all types of off-road bike including enduros, supermotos, motocross, dirt bikes and scramblers
Full range of cover options including Comprehensive, Third Party Fire & Theft, Third Party Only, Fire and Theft Only or Laid Up Cover. To qualify for road risks cover, your bike will need to be road legal.
Legal cover up to £100,000 included free of charge
Save on insurance for your dual sport motorbike
There are a wide range of discounts available to owners of off road bikes, many of which are only available on the phone.
Discounts include:
Owners club discount
Limited mileage discounts
Security precautions
Keeping your scooter in a garage
Experience of riding your scooter
Multi bike insurance discounts
Dual Sport owners can get our best deals by calling us on the phone - that's because we can take individual circumstances into account to reduce the price you pay. Our highly trained staff can take and less rigid approach than a computer, and answer any questions you might have and advise you on the features available from your policy.
Our best rates are only available on the telephone, so make sure you call us on 0800 369 8580 before you buy a policy.
Policy Upgrades / Add Ons
Dual Sport Motorbike Insurance Problems Resolved
Until I spoke to Bikesure I couldn't get any quotes that were a reasonable price
I had been looking for quotes for my 650 Pegaso for a few weeks, but I struggled, purely because I usually do about 40,000 miles a year with personal business use. Bikesure understood my request and insured me with no problems whatsoever.
Sample Quotes
Honda XR 650L for green laning
Martin is a 31 year old postman from Norfolk. He lives in PE30 and has just purchased a 2005 Honda XR 650 L for &pound2,600. He has got the bike so himself and his friends can go and have fun doing a bit of green laning. He wants to use the bike for commuting to and from work as well. Because Martin has a fault claim from 2011 he has been getting quite expensive quotes.
Martin only pays &pound94.80 for TPFT cover.
Kawasaki Versys 1000
James is a 40 year old solicitor from Norwich. He lives in NR1 and has owned his Kawasaki Versys 1000 for 2 years. The bike is worth &pound5,000 and he keeps it locked away in his garage. James loves to tour Europe once a year so needs usually does about 6000 miles a year. The main issue James has been finding is that he has two speeding convictions, one from 2012 and one from 2013. Because of this he has been getting quite high prices. In the end he got covered and also managed to get 90 days of EU cover!
James only pays &pound131.50 for fully comprehensive cover.