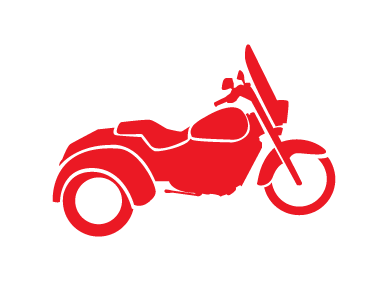 For motorcycle trike insurance that's of a high standard, at a reasonable price, Bikesure have access to a variety of specialist trike insurance schemes and can offer cover tailored to your exact needs.
With fantastic prices for all trike enthusiasts we offer a complete low-cost, high quality tricycle insurance service, and as a specialist broker, we can offer cover for modifications you may have made to your trike, and for a wide range of personal circumstances.

You can use our online quote system right now to compare trike insurance quotes from our panel of underwriters.
Specialist Trike Insurance Quotes
Whether you have a Honda or Harley trike, bought off the shelf from a specialist, or if you've built your trike yourself onto a Reliant or VW chassis, the beauty of a trike is that it is as individual as you - but finding a reasonable trike insurance quote can be something of an ordeal.
Many motorcycle insurance companies don't really understand trikes. In particular, they ignore the many hours that enthusiasts like you tend to put into their trike the specialist knowledge that you've built up about your trike, and the different ways that a trike is used. The unwary rider can all too easily find themselves with a motor tricycle insurance quote that is way over the odds.
Cheaper Motor Tricycle Insurance
When you take out a motorcycle trike insurance policy from Bikesure, you can be confident that the policy will be perfectly tailored to your particular needs. We have specialist trike insurance schemes, designed especially for trikers and catering for all modifications, whether for a disability or just for fun.
And since our trike insurance is tailored to your needs, you can choose which tricycle insurance features will benefit you most - £100,000 of legal expenses cover is included free, but you can also choose to add homestart breakdown insurance, personal injury cover or leather and helmet cover.
Trike Policy Benefits
Agreed value option
Riders with motoring convictions covered
Riders with criminal convictions covered
Disabled trike riders welcome, including ride from wheelchair trikes
Can-Am Spyders and performance trikes covered
All modifications and customisations covered even including turbochargers, NOx and other performance enhancing mods
Any size of engine
European travel cover
Easy payment options including direct debit options
Full range of comprehensive trike insurance, TPFT tricycle insurance and TPO motorcycle trike insurance.
UK and overseas licences are OK
Imported trikes covered
Legal cover up to £100,000 included free of charge
Trike insurance policy savings
There's no such thing as an ordinary trike, that's why our cheapest trike rates are only available over the phone.
Discounts available include:
Owners club discounts
Limited mileage discounts
Security discounts
Garaged trike discounts
Experienced riders discounts
Discounts of up to 50% for no claims bonus earned on another vehicle
Multi bike insurance discounts
Our best rates are only available on the telephone, so make sure you call us on 0800 369 8580 before you buy a trike policy.
Policy Upgrades / Add Ons