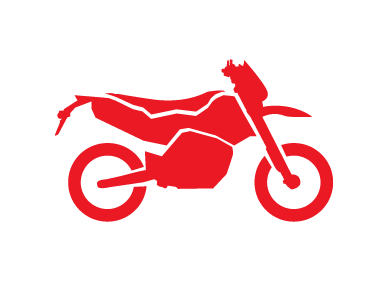 Supermoto motorbikes are much loved by those who enjoy riding both on and off the road, which is why supermoto motorcycles are becoming more frequently used. Allowing you to use just one bike to commute to work and to have fun on the dirt tracks at the weekend.
Insurance for supermoto bikes
Insurance prices for supermoto bikes can be through the roof, with many insurance companies even refusing to cover motorbike use that is not on the road and others viewing the off-road usage as a higher risk and therefore largely increasing your premiums.
Bikesure can find insurance for all riders of supermoto bikes
If you are new to motorbikes and have zero no claims discount Bikesure can still offer you excellent rates, we also offer rates to convicted riders, whether it's just for one conviction or many.
With access to a huge range of insurance policies to cover your supermoto bike Bikesure can be sure to cover you insurance requirements at a good price. If you have more than one bike, we can also offer discounts with multi-bike policies.
Read our key features for more benefits from insuring your supermoto bike with Bikesure.
Bikesure supermoto bike insurance policy features can include:
Third party cover to ride a friend's bike
Multibike insurance policies at reduced rates
Cover for riders 16+
Riders with zero no claims accepted
Riders with motoring convictions covered
Riders with criminal convictions covered
Modifications and customisations covered
Easy payment options including direct debit instalment plans
Cover available for all types of supermoto bike including enduros, supermotos, motocross, dirt bikes and scramblers
Full range of cover options including Comprehensive, Third Party Fire & Theft, Third Party Only, Fire and Theft Only or Laid Up Cover. To qualify for road risks cover, your bike will need to be road legal.
Legal cover up to £100,000 included free of charge
Save on insurance for your supermoto
There are a wide range of discounts available to owners of supermoto bikes, many of which are only available on the phone.
Discounts include:
Owners club discount
Limited mileage discounts
Security precautions
Keeping your scooter in a garage
Experience of riding your scooter
Multi bike insurance discounts
Supermoto owners can get our best deals by calling us on the phone - that's because we can take individual circumstances into account to reduce the price you pay. Our highly trained staff can take and less rigid approach than a computer, and answer any questions you might have and advise you on the features available from your policy.
Our best rates are only available on the telephone, so make sure you call us on 0800 369 8580 before you buy a policy.
Policy Upgrades / Add Ons
Supermoto Insurance
I've got the added bonus of being able to change from road wheels to off-road wheels for green laning!
I was surprised that a lot of insurers didn't seem that interested in covering my bike having this option unless they knew which wheels were on the bike. Other issues seemed to be that with it being a Supermoto and only having daylight M.O.T. I spoke to Bikesure and they were absolutely fine with it.
Sample Quotes
KTM 690SM 2007
Carl is a 42 year old sales assistant from Wales. He has just purchased his new toy, a 2007 KTM 690 SM worth £2,600. He only does 2000 miles a year as he only takes it out when the weather is nice. Because he hardly uses the bike, Carl wanted to pay as little as possible for his insurance whilst getting a good level of cover. In the end he obtained insurance, and as a bonus he got £100,000 worth of free legal cover on top!
Carl only pays £174.60 for comprehensive cover.
KTM 990R SM
Lenny is a 25 year old butcher from Leighton Buzzard. He has owned his 2009 KTM 990R SM for 1 year. He values his pride and joy at £5,000 and he keeps it stored away in his garage at home. At the weekend, Lenny loves nothing more than getting out on the twisty back roads where he lives. Lenny is only 25 years old he has been finding lots of prices that are out of his price range, even though he has 2 years NCB.
Lenny only pays £214.20 for TPFT cover.