Classic Bike Insurance Quotes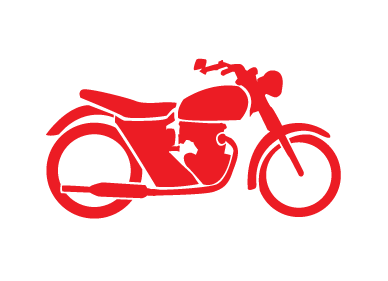 If you are looking for classic motorcycle insurance, things can be confusing. After all there are several companies that claim to offer insurance to classic motorbike owners, but all too often you'll discover that the insurance cover offered is not really designed with the needs of the classic bike enthusiast in mind, and so you may find yourself paying over the odds for cover that you don't need.
Classic Motorbike Policy Features
Depending on the particular scheme selected, our classic bike policies can offer a wide range of features and benefits including:
Agreed value option
Riders with motoring convictions covered
Riders with criminal convictions covered
Salvage Retention
Cover to use your motorcycle at club rallies and events
Multi Bike Policies
Zero Excess Policies available
Free UK breakdown cover on some classic schemes
Third party cover to ride friends' bikes
A number of modifications and customisations covered
Full range of comprehensive classic bike insurance and TPFT classic motorbike insurance available
Legal cover up to £100,000 included free of charge
Classic Bike Discounts
You can save even more money on your classic motorcycle insurance with additional discounts available for:
Owners club members
Limited mileages
Experience of riding a classic bike
Security precautions
Multi bike insurance discounts
Featured classics advice on BikesureBlog
How to keep your classic motorbike safe for the road
Three men and their classic motorcycles
How to Invest in a Classic Motorcycle
Policy Upgrades / Add Ons
At Bikesure we understand your needs as the owner of a classic motorcycle, and our classic motorbike insurance is designed from the outset with you in mind. And because we have access to several quality, but cheap classic motorbike insurance schemes we can find you the perfect policy for your pride and joy.
Classic Bike Insurance designed for the enthusiast
That's why (subject to scheme) our classic motorcycle insurance cover can offer you
Agreed value cover - don't settle for the market value if your classic motor bike is worth more.
Special Events cover - classic motor bike insurance for rallies and events.
Zero Excess policies available - with no excess to pay in the event of a claim.
Salvage retention - in the event of a total loss, you can elect to keep the salvage.
Free european green card cover up to 90 days.
Free UK breakdown cover available.
Cover for rare and high-value classics that may be difficult to insure elsewhere.
Special "Modern Classic" motorbike insurance schemes.
Cover to ride other people's bikes.
Modified classic bike insurance - total peace of mind for your modifications and customisations.
Multi-bike policies - Any number of bikes can be covered under one cheap classic bike insurance policy.
With fantastic prices for all classic motorbike enthusiasts we offer a complete low-cost, high quality service to all owners of classic and vintage motorbikes. And as a specialist broker, we can offer classic motorbike insurance cover whatever modifications you have made to your bike.
Bikesure is different
When you take out a classic bike insurance policy from Bikesure, you can rest assured that the policy will be perfectly tailored to your particular needs. That's because we have access to an array of specialist classic motor bike insurance schemes, designed especially for classic and vintage bikes.
With our online quote system, you can instantly compare and buy classic motorbike insurance quotes from the range available and then choose which quote is the right one for you. You can always speak to one of our expertly trained underwriters to take up the policy or discuss further options. In fact, for a classic motorbike insurance quote, we would always recommend you speak to one of our advisers, as they will always have more flexibility than a computer.
Bikesure have many years experience of offering classic bike insurance. UK residents, including Channel Islands and Isle of Man are all able to get a tailored classic motor bike insurance policy from Bikesure.
Our cheap classic bike insurance policies all have the option of agreed value cover where required as well as £100,000 free legal expenses insurance, and we also offer further optional add-ons, such as personal injury and road rage cover, home start breakdown cover and cheap helmet and leathers insurance.
We think you'll get the best classic motorcycle insurance deals if you speak to one of our specialist staff. Your rate will be individually computed by a trained underwriter, who will apply their expertise and experience to cases that would be offered a much higher rate by a computerised system. But if you want to get a classic motor bike insurance online, you can.
You'll also be able to ask us any questions relating to classic bike insurance, and you can relax - we'll always put your interests first and offer you classic bike insurance you can trust.