Adventure Motorcycles Insurance Quotes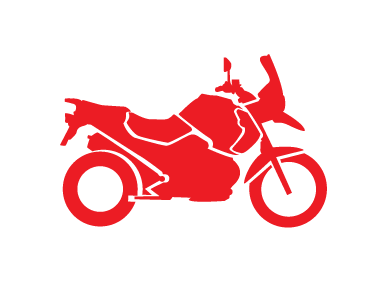 Here at Bikesure we love a good adventure bike, simply because of its versatility. It satisfies such a wide range of biking desires: on and off-road, light, mid and heavyweight, long and short distance, performance and touring. That's why for us it is the ultimate bike's bike. If you love dual-purpose bikes as much as we do, you'll know that it's not always a simple matter to get the cover you need. With access to a variety of schemes, Bikesure can help you get suitable cover, for whatever you use your bike for.
Give us a call today on 0800 369 8580 to see what we can do to help you get out on the road today.
Specialist cover for Adventure Motorcycles
We understand that insuring an adventure motorcycle can be complicated, and that some insurance companies get a little over-adventurous with their premiums! The fact that you may want to use your bike for various purposes can cause issues, as well as the likelihood of you wanting to ride it long-distance and possibly even abroad. You will need to make sure you have the correct cover for all of these eventualities, so that you don't get caught out should the worst happen. If you've seen the acclaimed documentary 'Long Way Round' with Ewan McGregor and Charley Boorman, you'll know that it's no fun being stuck at the side of a road with a heavy BMW R1200 GS!
Bikesure is different
We understand you need cover for a variety of uses, that's why we search the schemes of over 30 insurers to get you the best cover possible, and at a fair price too. If you're concerned about the many customisations and mods you've made to your bike, we can find you a policy that covers them. If you're more worried about cover to ride in Europe, or having third party insurance to ride a friend's bike, we can find a policy to cover these too.
Get a free, no-obligation quote from the motorcycle experts today
Adventure motorbike insurance policy features:
Third party cover to ride a friend's bike
Multibike insurance policies at reduced rates
Riders with zero no claims bonus accepted
Riders with motoring convictions covered
Riders with criminal convictions covered
Accessories, modifications and customisations covered
Easy payment options via direct debit
Full range of comprehensive, TPFT, TPO and laid up cover
Up-to 90 days European cover in one trip
Legal cover up to £100,000 included free of charge
Discounts for adventure motorbike policies:
Advanced rider qualifications

Owners club discounts

Limited Mileage discounts

Security devices and precautions

Garaged vehicles

Experienced riders

Multi bike insurance
Policy Upgrades / Add Ons