Cheap Motorbike Insurance Quotes Tailored to You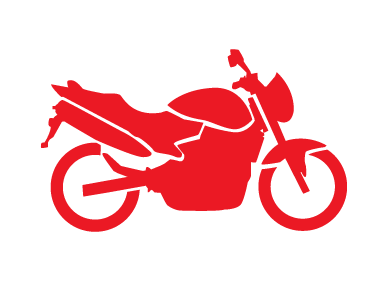 If you're looking for high quality motorbike insurance at a price you'll like, then Bikesure, the specialist motorcycle insurance division of Adrian Flux, can help. We have access to a wide variety of specialist motorbike insurance schemes, and can offer cover tailored to your needs.
Specialist insurance for all Motorbikes
With cheap motorbike insurance prices for learners, younger riders, experienced riders, commuters and motor biking enthusiasts we offer a complete low-cost, high quality service to all owners of motorbikes. And as a specialist broker, we can often offer the cheapest motorbike insurance cover if your motorbike is a classic bike, modified bike, superbike, custom bike, or one of the many Chinese motorbike imports available today.
Get a cheaper Motorbike Insurance Quote
Perhaps you're a teenager with a 50cc Chinese import motorbike, or maybe a classic motorbike enthusiast with a Lambretta. You might enjoy rides with a friend on a two seater Suzuki Burgman, or you may just appreciate your motorbike as a stylish and comfortable way to get from A to B. Whatever your lifestyle, there is probably a motorbike out there for you, but finding the cheapest motorbike insurance quote may be somewhat trickier.
The problem is that a lot of motorbike insurance companies don't understand the particular needs of the motorbike owner. They don't take account of the many ways in which motorbikes differ from bikes, and as a result, the unwary motorcyclist may be charged over the odds.
Bikesure is different
When you take out a motorbike insurance policy from Bikesure, you can be confident that the policy matches your needs as a motorbike owner. That's because we have access to an array of specialist motorbike insurance schemes, including tailored schemes catering for classic motorbikes, customs and modified bikes, Harleys, performance bikes and superbikes, scooters and mopeds, scooters, quads and trikes.
If you have more than one bike, we can offer you a multibike insurance policy with a single low premium for all of your bikes, saving you time and money.
And if you have zero no claims bonus, don't despair. Whatever the reason for your lack of discount, you can usually get a quote from us, and we can also offer convicted rider insurance for riders with motoring convictions or criminal convictions.
What's more, when you use our online motorbike quote and buy system you can instantly compare cheap motorbike insurance quotes selected from the several available and then choose which one is best for you. If you like the price you see you can buy online, or speak to one of our knowledgeable underwriters to take up the policy or discuss further options.
Because our motorbike insurance is tailored to your needs, you can choose which features will benefit you most. Every policy comes with £100,000 of free legal cover, but we also offer optional add-ons including personal injury cover, comprehensive breakdown cover and protective clothing and helmet insurance.
Bikesure Motorbike insurance policy features can include:
Multibike policies. Cover all your bikes, of any type, including scooters, quads and trikes, on one policy
Agreed value option for classic, custom and modified motorbikes
Great rates for riders with zero no claims bonus
Riders with motoring convictions covered
Riders with criminal convictions covered
Motorbike modifications and customisations covered
Easy payment options including direct debit - even for 16 year olds (subject to guarantor)
Full range of comprehensive motorbike insurance TPFT motorbike insurance and TPO motorbike insurance available
Up to 180 days' European travel, with up to 90 days per trip
Legal cover up to £100,000 included free of charge
Insurance Savings for your Motorbike
There are a wide range of additional discounts available, many of which are only available on the phone.
Savings available include:
Owners club discounts
Limited mileage discounts
Security discounts
Garaged vehicle discounts
Experienced rider discounts
Multi bike insurance discounts
Although you can buy your motorbike insurance policy online, you can get even better deals if you speak to us on the phone. We can take you individual circumstances into account to bring your price down substantially, because our staff can look at things in a less rigid way than a computer and are specialists in all types of motorbike insurance. Our staff are all based in the UK and can use their extensive training and experience to help you find a better motorbike insurance deal.
Our best rates are only available on the telephone, so make sure you call us on 0800 369 8580 before you buy a policy.
Policy Upgrades / Add Ons