admin
This user hasn't shared any biographical information
Posts by admin
With the season of goodwill fast approaching, what better way to celebrate than by giving one lucky person the chance to win £100 in vouchers for motorcycle accessories?
All you have to do to be in with a chance to win is to head on over to our competition page and answer the question by leaving an insightful comment or opinion.
Since 1974, when 'Zen And The Art Of Motorcycle Maintenance' was published, biking has had a bit of an intellectual thing going.  Robert Pirsig's seminal text might not be to every motorbiker's taste, but it's earned its place as the one philosophy book that most riders have actually heard of.  (It's probably the one philosophy text that most people have heard of, period).
But Pirsig isn't the only thoughtful motorcyclist – and we've looked for some other stocking-filler books with a serious motorcycling flavour – written by philosophers, provocateurs and politicians who have taken to two wheels.
Matthew Crawford has to be a favourite.  Not only a philosopher and a biker, he also runs a motorbike repair business in Virginia, USA.  He's written a book called 'Shop Class as Soul Craft' which, according to Harvey Mansfield, Professor of Government, Harvard University, looks at the "morality and metaphysics of the repairman."
'Philosophical Ridings: Motorcycles and the Meaning of Life' is written by Craig Bourne, Senior Lecturer in Philosophy at the University of Hertfordshire.  It takes in aesthetics, justice, life and death as well as motorbikes.  Sounds like it should be on every biker's Christmas wish list…
Of course, you don't have to be a pure philosopher to be a biker and a thinker.  Look at Che Guevara: apparently, riding a bike around South America helped turn him from medicine to political activism and, ultimately, into a 20th century icon.  If you're interested to find out more, but don't fancy tackling the great man's written diaries of the trip, then check out the 2004 biopic, 'The Motorcycle Diaries'.  MovieMail is one of the sites selling the DVD on special offer.
Conan the Barbarian wouldn't get into many lists of intellectuals, but the folk at Bikesure are nothing if not freethinking.  So Arnie Schwarzenegger, who played him on film, gets picked as a Harley-Davidson rider and a politician who, as Governor of California, managed to ruffle plenty of feathers.  If you fancy a Schwarzenegger-style Fat Boy, there are plenty of online resources to check, such as Bowker Motor Group's Harley-Davidson pages.  Meanwhile, if you'd like to find out more about muscular Austrian and the philosophy (really!) behind his bodybuilding methods, you could start with 'Arnold: Education of a Body Builder.'
The philosophers have it that people cannot live by bread alone – but we can't live without it, either.  Jamie Oliver gets into the Bikesure list because there's no doubt that his ideas stir things up, and not just on the hob (though some of those recipes are really tasty).  Check out the heat he generated with attacks on attitudes to school dinners, fast food, healthy eating, and so on.  These days on the box he's more often seen in a Range Rover than riding his scooter in a pukka  Parker, but we love him because, like the others mentioned here, he's definitely a fan of two wheels.
Our tips to help scooter riders stay safe in the Winter months
Winter doesn't mean you have to store your scooter away until the brighter months. By following these simple tips, you can carry on riding your scooter throughout the season.
Wear warm, waterproof clothing. Keeping warm and dry will help keep you more focused on riding and the conditions around you.
Wear a scarf or some kind of neck covering to stop cold air getting in between your helmet and jacket. Wear suitable gloves to keep you warm, but also keep hands free to use the throttle and change gear.
It's important to wear a full-face helmet as most body heat is lost through your head. Visors should be clear and kept clean and scratch-free. Choose a helmet with ventilation to prevent steaming up.
Be seen. It's important to be visable, especially in the winter months when it gets darkearlier and bad weather can impair vision. Use your lights and wear reflective strips on clothing and on your scooter.
Thoroughly check your scooter. Make sure battery is charged. Check you have enough fuel to get to destination. Check oil levels. Make sure tyres have enough tread and that the pressures are correct. Check all lights are in working order and check your brakes.
Keep your scooter clean as grit from roads can corrode the bodywork and cause all sorts of damage.
Check the weather and the road conditions and allow plenty of time for journey. If the roads are particularily bad then revise your route if possible.
Be aware of the road conditions when riding. Edges of roads tend to be slipperier and ice takes longer to thaw in shady areas. Beware of potholes and areas that have not been gritted. Ride according to the road conditions. In snowand ice be slow and gentle with your brakes, clutch, steering and throttle. Remember braking distances are increased on slippery roads
Be aware of other road users. Keep an eye on cars close behind you and signal in good time.Leave plenty of space between yourself and the vehicle in front.
Always carry a mobile phone and some money in case of emergency. With these simple tips and some common sense there is no reason not to ride your scooter in winter. Be safe and enjoy the ride. If you get too cold or the conditions are too bad then stop, when it is safe to do so.
Rural Rides: hazards that lurk in the lanes in autumn and winter. 
On bright autumn and winter days there are few things better than blowing out the cobwebs by blasting out of town and onto the UK's high roads and by roads.  However, rural routes require handling with care by motorbikers – especially if you're more used to smooth city surfaces and fast A roads.
Bumps, pot holes & puddles: the size, variety and sheer number of lumps, bumps and potholes on back roads are a huge danger to the motorbiker.  Be especially careful of routes that take you down lanes that are little more than tracks, which are probably seldom used (and then only by country folk in 4x4s or tractors).  But it's not just the tracks: there are plenty of relatively busy rural roads with real pothole issues.  Fill That Hole is a cycle-based site but it's aimed at everyone and worth checking out: it features maps and a simple way to report potholes.
Mud: city bikers are unlikely to be used to mud.  At least, not in the quantities you may find on rural roads near fields.  Despite campaigns and laws to clear up the stuff, (the Farmer's Guardian points out that leaving mud on the road is an offence under the Highways Act) farm vehicles tend to drop the brown muck all over the place, making roads highly slippy and dangerous – never more so than during the sugar beet harvest (September to Christmas).  So take extra care and go slower, especially on the back lanes.
Sun…: that low winter sun is a blinder so even if it's cloudy when you set out, be prepared with decent shades for just-in-case.  RX Sport offers a selection of good quality eyewear, including prescription sunglasses.  Remember the sun can blind drivers, too, so ride with your lights on to be more easily seen.
… and Rain: Be especially careful in the rain on a rural ride, when relatively innocent looking puddles could hide nasty holes.  Mud on the road is going to contribute to its slipperiness, too.  Winter weather is unpredictable, so always have rainwear to hand.  GetGeared offers a good selection of biker rainwear for men and women.
High hedges: the high hedges and banks on narrow lanes are a common and significant hazard.  Not just for bikers, but also for the pedestrians and animals that share the road with vehicles.  So take care and try to anticipate potential dangers – for example, slow down and toot the horn at blind corners.
Map it: even if you plan your route, even if you have satnav, it's worth taking a good old fashioned map of the area so that when you get lost, you can have a better idea of where you are.  Dash4it sell a wide range, including the OS Explorer Active maps, which are large scale (4cm to 1km) and weatherproof.
Bikesure has a long history of working with some of the fantastically hardworking and seemingly tireless groups of volunteer bikers who give up their spare time to carry blood, organs and crucial medical supplies between our hospitals.
This crucial work frequently goes unnoticed, and even the patients who receive the benefit of the super-speedy, traffic-dodging deliveries would in all probability never know the part that this network has played in their recovery.
Aside from working with groups across the UK, such as the Severn Freewheelers, we were particularly pleased to hear that a local scheme was starting in Norfolk, and were more than happy to offer help with funding for their West Norfolk bike.
SERV (Service by Emergency Rider Volunteers) Norfolk are here to help the medics at the Queen Elizabeth Hospital in Lynn get their vital supplies of blood and plasma without having to rely on expensive private couriers or taxis. They have a team of 81 volunteer riders, who sign up for shifts. The service currently operates two powerful motorcycles, a BMW 1200 RT and a Honda ST1300 Pan-European, and provides cover from 7pm to 6am.
We know the value that this provides, and bikers appreciate more than most the medical professionals that they know they may one day rely on, so I was pleased to see that Honda had made a little film celebrating the Blood Bikers across the UK.
An excellent cause, so well worth finding your local organisation and offering of your time or money if you can.
http://www.bloodbikes.org.uk/
It is always nice to see quad bikes getting some positive treatment on the TV for a change. That's why it is so great to see that Honda have been highlighting the usefulness and versatility of their quadbikes alongside their sponsorship of Channel 4 documentary programmes, such as Cutting Edge.
In fact the campaign, which the W+K agency has created, extends far beyond the bumper slots around the programmes, to the extent that the short films, which have been shot very nicely, are small, self-contained documentaries in their own right. The quad bike film, which you can view below, is the first of four that will appear in coming weeks, each highlighting Honda customers using their products in an unconventional or unusual way.
The quad film features a farmer using the quad bike in various ways around the farm.
So far, so conventional.
But the farmer in question is Philippa, and she does not conform to the popular stereotypes of a farmer.
And she certainly doesn't conform to your preconceived ideas of a quad biker.
But the most remarkable thing of all is that she farms alpaca, which I like to think of as posh llama.
Watching her shepherd the herd of alpaca around the fields is fascinating, as is her whole story.
If that has whetted your appetite, the good news is that Honda has created an online hub, where you can find out about other people using Honda machines in quirky and unusual ways. It's also the place where you can share your own stories of unconventional uses for your quads, bikes or other Honda kit.
And if this inspires you to get into quads yourself, don't forget the most important bits of kit after the quad itself – decent quad safety gear, and a good quality quad insurance policy.
Sponsored Post
All the motorsport fans out there will already have been following the TT build-up on the TV, waiting with bated breath for the start of qualification and racing at the legendary Isle of Man TT races, which kick off in earnest today.
This year, Bikesure were offered the chance to sponsor the TV coverage of the TT, and we've jumped at the chance, helping to ensure that this year's coverage on ITV4 remains as comprehensive and beautiful as ever.
TT highlights are on ITV4 and ITV4HD (Channel 120 on Sky) every night at 9pm (and 10pm on +1) from Friday 3rd June to Saturday 11 June, simulcast at itv.com and with catch up via ITV Player. Repeats will be around lunchtime of the following day, so there is no excuse for missing out on one of the highlights of the motorsport calendar.
To commemorate the occasion, Bikesure have published a special edition of influx magazine, celebrating the past, present and future of the Tourist Trophy at bikesure.co.uk/tt
If you haven't seen our sponsorship bumpers yet, you can view one below, but watch tonight at 9pm, because it looks awesome in HD, and there's the small matter of the most exciting bike races in the world.
Bikesure 10 second IOMTT
Our previous list of our top 10 motorcycle apps for iPhone has proved a popular topic, and one of the new apps brought to our attention via the comments was Greatest Road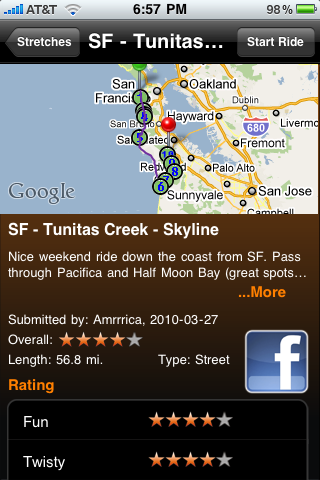 Greatest Road app for iPhone or iPod touch (http://greatestroad.com/) helps bikers worldwide find, rate, share and comment on sweet roads. Open the app, move and zoom the map to an area you're interested in, and the app shows road stretches nearby. All roads and comments are added by other bikers. You can email directions to other bikers with iPhones, or send a gpx file to yourself or others to install the route on your dedicated GPS device.
Daniel, the creator has got in touch to let us know of some exciting new developments with the latest version, Greatest Road 2.0, which integrates with Apple's Notifications so that at various points in the app you can keep track of what's happening with the routes you like.
Customers get an alert whenever a comment or rating is added to a favorite route, one they've commented on previously, or one they've added.
He says "Now that we have the app wired up with Notifications we'll be experimenting with other ways to strengthen the "speaking with your buddies" feel."
You can get the app through iTunes via http://bit.ly/GRgetit and the app is available in English, German, Italian and French.
But that's not even the best bit, because, for a limited period, the app is being offered completely free of charge. This is the kind of app that the biking scene could really do with, and it needs a thriving user community to do well, so if you like the idea of exchanging great ride-outs with other bikers, and you have an iPhone, you need to download the app now!
I just wish there were an Android version…
Here are some more details from their press kit
Greatest Road helps motorcycle riders find and stay updated on the best roads based on recommendations from other bikers. Pick an area on the map and see all the good stretches right in front of you. Other bikers provide comments and star ratings of the road based on criteria such as Fun, Scenic, Curves, etc.
Add your own route in minutes or add comments or star ratings to what's already there. Post your favorites on Facebook. Email the ride to friends with iPhones, iPads, iPod touches or even just standalone GPSes. Export *any* route to TYRE or other computer software that uses GPX!
Want to find a new place to ride this weekend? Going on a road trip? Visiting other parts of the country or world? This app works anywhere you can see a map and get directions in the built-in Maps app worldwide.
When you've picked a stretch to ride, a single tap switches you over to the built-in Maps application to help you navigate along the way. Support for other navigation apps will be added over time. Greatest Road is not a competitor to the great, in-motion, navigation apps available on the App Store. It is complementary, helping you to choose the right place to go before hitting the road.

If you are into trials bikes in any way, you'll probably already be a massive fan of Dougie Lampkin. The legendary enduro and trials rider must have one of the largest trophy cabinets in the world, but he is not averse to showing off a few stunts, and has teamed up with his sponsors, Nissan, to promote their van range.
Nissan are presumably aware of the high correlation between van drivers and bikers. What they may not realise is that van drivers who ride bikes tend to be an excellent risk. We can speculate as to why – they need their license for work, so they ride sensibly – and as bikers, they are more conscious of vulnerable road users. Whatever the reason, as part of the Adrian Flux group, Bikesure customers qualify for an additional discount when they buy van insurance from Adrian Flux.
Essex County Council have launched a funky new viral game aimed at helping draw motorists attention to the many and various hazards that exist out on the road.
The new Drive Essex site gives drivers a chance to test their powers of perception and score big points for avoiding the various obstacles, dangers and situations that present themselves. It is well worth playing the game, as it may surprise you how easy it is to miss a potentially lethal hazard.
One factor that players consistently miss, according to the developers, is the presence of a motorcycle in their rear view mirror. With that in mind, it may well be worth forwarding to friends – perhaps missing a biker in this simulation will be a wake-up call for some drivers and help them spot their fellow road users more easily.
And for those of us who are bikers, it should serve as a reminder that high-visibility clothing, daylight running lights, and anything that helps motorists spot you is worth any ensuing embarrassment.